The Vikings have fascinated the world for centuries. They were an intimidating nation, feared by many whilst intriguing others (even the lands they ravished found them to be an enigma). But what's the real story behind a multitude of movies, series and pictures? We give you the lowdown of everything you need to know about the Viking sites in Iceland.
With the legendary Vikings, it's often hard to distinguish fact from fiction. That's why many say that the Viking sites in Iceland opened their eyes to many things they didn't know and myth busted things they thought they knew.
Viking Sites in Iceland
Did you know that Vikings never wore horns on their head as generally depicted? Well, you'll learn this and many more interesting historical facts when you visit Viking sites in Iceland. And there are PLENTY! From Viking villages and museums to ruins strewn across the island. With so much to choose from, we've narrowed it down to the 10 best Viking sites in Iceland:
If you're based in Reykjavík, this should definitely be one of your first stops. This Viking Museum in Iceland might be small, but it certainly packs a punch. The museum is divided into 4 exhibitions:
The Icelander
This section contains a replica of a Viking ship. But unlike most other replicas, this is a fully functioning ship and was actually sailed all the way to New York in 2000 in honor of Leifur Eiriksson's adventures to the New World.
The Vikings of the North Atlantic
This is where you learn all about the raiding and plundering that occurred on Leifur's journey to the New World.
The Settlement of Iceland
In this section, you can actually view archaeological findings from the region. Here you can also join the debate whether the ruins in Hafnir are that of a farmhouse or an outpost.
Fate of the Gods
Here you enter the magical and mystical realm of all the Norse mythology has to offer. Take an audio tour as you are transported into some of the most legendary myths via art and music.
As an added bonus, the museum is a pretty impressive building, created by an award-winning architect. The museum is open every day. Just remember to check the time schedule since it closes a little earlier on Sundays.
This is yet another site that's close to Reykjavík and suits anyone with an appetite for Viking culture and…well…actual food. It is important to note though that this Viking village in Iceland is only open in the evenings from 6pm. Here you will eat traditional Viking meals served in true Viking style along with fellow Vikings being serenaded by singing Valkyries. This is the ultimate authentic Viking dining experience!
After getting a taste of real Viking cuisine, you'll probably want to step it up with a real day-in-the-life-of-a-Viking experience. This is guaranteed with this living Viking museum Iceland, built on old Viking ruins in Iceland. This city is a real Viking village in Iceland. At Eiriksstadir you can see how the Vikings lived in a true-to-form Viking house with Vikings in traditional garb telling you stories around the fire.
What makes this one of the most impressive Viking sites in Iceland is the fact that everything there was made by hand using traditional Viking tools and methods. If you're planning on visiting this Viking museum in Iceland, you'll need to pay particular attention to when you book your trip, as Eriksstadir is only open in the summer months.
This is another popular Viking spot to visit in Reykjavík, and one souvenir you don't want to miss out on. Here, you and your family and friends will be transformed into fierce Vikings. But what else can you expect from renowned Gudmann Pôr Bjargmundsson who's worked on many successful TV and movie sets such as Game of Thrones?
The studio will provide you with everything you need to complete your unique Viking look – from clothes to weapons. Due to its popularity, bookings are essential and you need to plan for roughly 45 minutes within the studio for a solo shoot and 1-2 hours if it's a group booking.
5. Saga Museum
If you enjoy a good legend, this is the place for you. Here you can dive into the Icelandic archives with first-hand accounts from the historical figures themselves. This Viking museum in Iceland takes you through some of the key moments and the turbulent past that shaped the country.
Just like with Eiriksstadir, all these depictions and replicas were hand-crafted using authentic, traditional Viking tools and methods. The museum consists of 17 exhibits such as Papar – The First Inhabitants, Leifur the Lucky – Vinland, Thorbjorg Litilvolva – Can she see the future? The titles alone make any Viking fan's heart beat faster. Tours are conducted in multiple languages, so everyone can enjoy all the museum has to offer.
The Ruins of Hrafna-Floki
These Viking ruins in Iceland not only tell the story of Hrafna-Floki, but also the story of how Iceland got its name. The ruins are located in the Westfjords in Vatnsfjördur and before the Vikings settled in the region it was a Norwegian called Hrafna-Floki Vilgerdarson that first started farming there. Unfortunately, Hrafna-Floki had no idea how harsh the cold and how long the winters in Iceland can be, and soon all his livestock was dead.
But before he waved goodbye to the land that brought him so much sorrow, he climbed to the top of a nearby mountain. He looked over the bay filled with ice and uttered the country's name for the very first time: Iceland. So the ruins of Hrafna-Floki are kind of a combo deal. You can view the remnants of his farm that was built in 865 as well as a Viking longhouse and a few others from later years.
These Viking ruins in Iceland don't come with your normal Viking lore. It recalls the tale of Porbjörg hin Digra, lady of the estate, who saved the Viking outlaw, Grettir Asmundarsonar (or Grettir the Strong) from hanging.
It is said that Grettir stayed in Vatnsfjördur for quite a while during his 20-year-long stint of outlawry and, as the name suggests, he is credited for building the Gressivarda Cairn. The less popular theory is that it was merely a watchtower.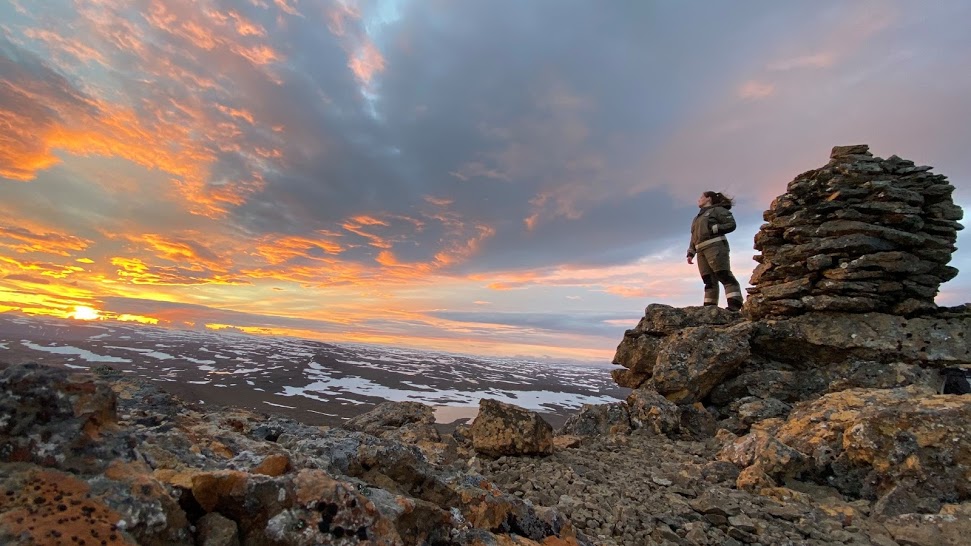 Writer and scholar are not what usually comes to mind when mentioning a chieftain, but that's exactly what Snorri Sturluson was. Snorrastofa is a research centre in Reykholt dedicated to researching the medieval period and the works of Snorri.
As mentioned earlier, Snorri was revered for his literary work and it is believed that most of his work was created there. These literary works are our main source of Norse mythology and the historical accounts of the Nordic countries. Tragically, Snorri was brutally murdered in Reykholt on 23 September 1241.
Keldur has claimed the title of one of Iceland's oldest structures. And maybe not the kind you'd expect. It is an underpass dating back to the 12/13th century. Its discovery was quite by accident when contractors uncovered it whilst digging a septic tank. The underpass is quite long (25 meters) and is believed to have been an escape route during the tumultuous Age of the Sturlungs.
While we don't generally consider grave-hopping to be a leisure activity, this burial mound comes with a rich history. You will find the Skalla-Grimur's burial mound in Borgarnes (West Iceland). Skalla-Grimur Kveldúlfsson was not just a Viking settler. He was the father of the Saga of Egill hero, Egill Skallagrimsson.
Skalla-Grimur presumably died of an unknown disease and was buried along with his tools, weapons, and his horse. After Egill's son, Bödvar drowned, Egill opened up his father's burial mound and buried his son with his grandfather. There is a beautiful relief depicting this event in front of the burial bound today.
Iceland's Viking heritage
If you wish to explore ancient legends and history firsthand but with deeper knowledge, you can always join a tour through time and legends with expert guides. Whether you're a history enthusiast or simply curious, this tour promises an unforgettable experience that will connect you with the mystical soul of Iceland's past.
Still, don't forget that the best (and cheapest) way of visiting the Viking sites in Iceland is by doing a proper road trip. Just keep in mind that some of the roads in Iceland (especially the Westfjords) can be quite tough to navigate and you might need to rent a 4x4. But whatever vehicle you require, Reykjavik Cars offers a wide variety that's easily booked online.