Looking for a real Iceland farm experience? This type of tourism encompasses natural beauty, rural walks, and many countryside activities. In this article, we dive into some of the top Iceland farm stay options, uncovering the best time of year for your holiday.
People love to travel to Iceland for its wide-open spaces and the myriad of opportunities to spend quality time in nature. From volcanoes and geysers to waterfalls and glaciers, Iceland has so much to see and a great way of getting even closer to the land is to choose an Iceland farm stay.
North Iceland is all about untamed nature and harsh land for hardy creatures. Here you will find a lot of sheep and tough horses that can traverse the mountainsides without issues. South Iceland instead benefits from more manageable lands in an agricultural sense, so here you will find more open plains and fewer mountains. But from the harsh, untamed nature in the north to the warm and embracing agricultural south, Iceland has no shortage of classic, hospitable farm holidays.
Starting in the north and moving south, we list our favourite Iceland farm stays.
Top 9 Farm Stays in Iceland
1. Íslandsbærinn Old Farm (North Iceland)
In the northern part of the island, we find Íslandsbærin Old Farm, which is a luxury lodge within a 10-minute drive from Akureyri. It is an Iceland farm lodge built in the old Icelandic farm style with a rock foundation, wooden walls, and a turf roof that puts you closer to the Icelandic farm roots.
The farm is nestled in-between two mountain ridges, which makes it a great base camp for day excursions to explore nearby trails and nature.
For the non-adventurous ones that want to explore what the area has to offer, there is a public pool, a museum, a golf course, and the jolly Jólagarðurinn! The last one is a house that is all about Christmas and everything that comes with it.
2. Lamb Inn (North Iceland)
Properly catching the old Iceland farm spirit, Lamb Inn is run by a family that is born and bred on the farm. It sits on the opposite side of the river from Íslandsbærinn Old Farm with an amazing view of the mountains. With the same structures as were built in the 1830s, Lamb Inn is definitely an Icelandic farm that you want to pay a visit to if you want a raw, rustic farm feeling.
Sheep outnumber people in Iceland by 2:1, so Lamb Inn took it upon themselves to side with the only mass on Iceland larger than the sheep population: tourists. This is one of the farms in Iceland that chose to niche into fine dining with lovely farm-style cooking centred around lamb dishes, and they did right in doing so with the delicacies that they offer.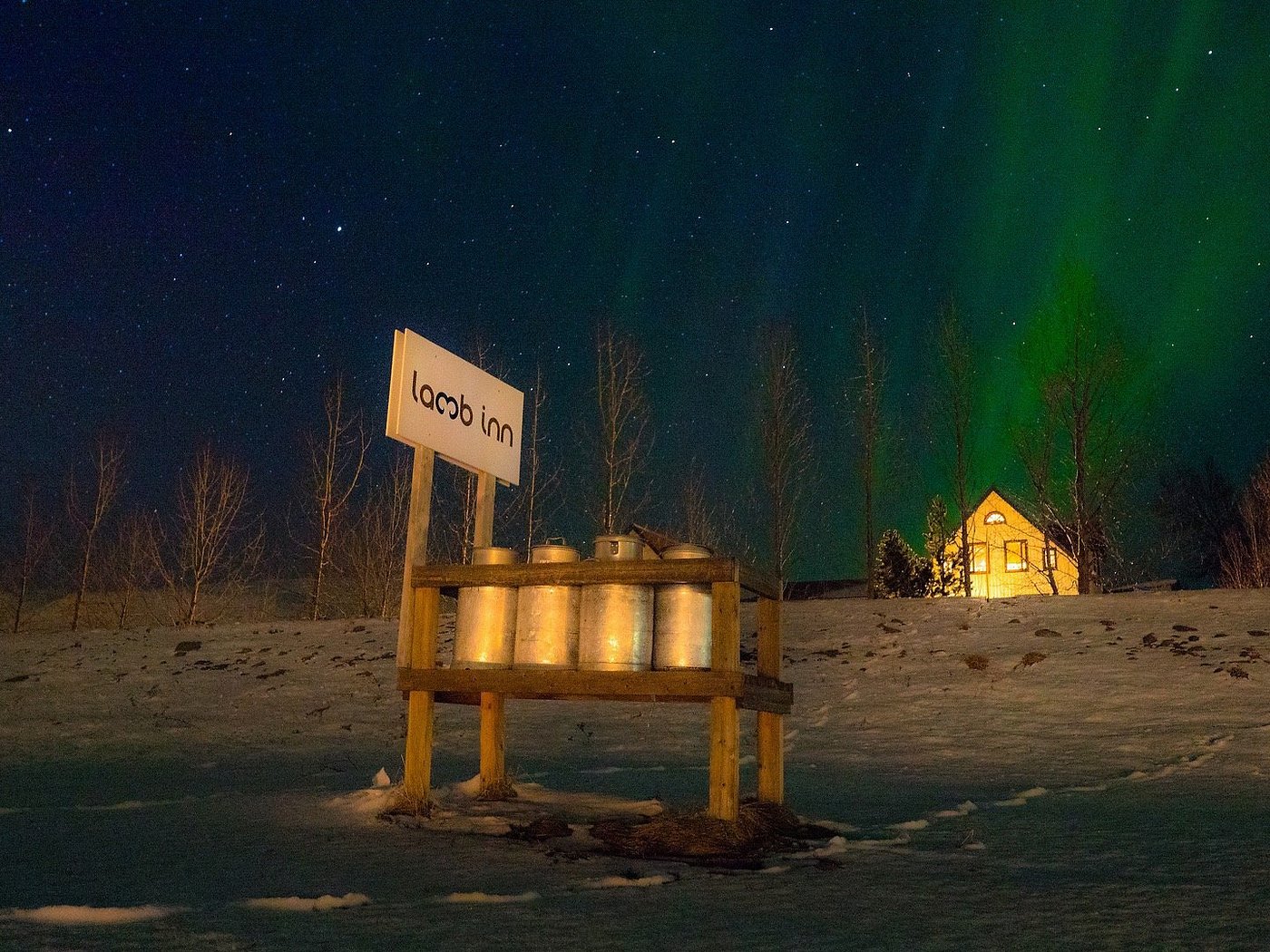 3. Bólstaðarhlíð Farm Cottage (North Iceland)
Located way up in North Iceland, Bólstaðarhlíð Farm Cottage is one of those farm holidays that are especially off the beaten path. Set amidst mountains, rolling fields and a winding river, it really is an idyllic scene. Even so, it's very easy to get to as it's located just a short drive off the Ring Road route.
The farm itself has been in the same family for over 200 years now. They mainly keep sheep, but there are also some horses as well as cats and dogs to make friends with on the grounds.
The valley is calm and tranquil with many walking routes to explore. It's a fantastic place to see the Northern Lights in the winter season.
4. Öndólfsstaðir Farm B&B (North Iceland)
This pretty farm called Öndólfsstaðir is located a mere forty minutes from the northern city of Akureyri, yet it feels wonderfully serene and remote. Its proximity to the Ring Road means that it makes a great base from which to explore nearby attractions. Godafoss waterfall is less than twenty minutes away and Lake Mývatn is just a forty-minute drive.
It is a mixed farm with sheep, cattle and chickens roaming the land. There are Icelandic horses too and guided rides are offered in the summer months.
5. Deplar farm (North Iceland)
Deplar Farm is our definite favourite in the north. This is the epitome of luxury farm holidays that includes everything from meals and drinks to equipment for any activity. Situated on the Troll Peninsula in northern Iceland, there is nothing but nature and seclusion during this stay.
Technically not a farm anymore, Deplar Farm is an old, rebuilt sheep farm in black lumber and moss roof that embraces Icelandic farm traditions in terms of architecture and style. In and around the property, you can do activities such as fishing, hiking, kayaking, mountain biking, horseback riding, archery, laser tag, clay shooting, skiing, snowboarding, dog sledging, and much, much more!
6. Ásólfsskáli Farm Cottage (South Iceland)
This is a wonderful Iceland farm stay to visit if you are driving the Ring Road route south from Reykjavík. Ásólfsskáli is located no more than 30 kilometres from the ferry crossing point for the Westman Islands, so staying here opens up for an easy visit to the islands for a few days.
It also happens to be one of the working dairy farms in Iceland, and guests are welcome to explore the setup to get a real Iceland farm feel. Horse riding excursions on the characterful Icelandic horse breed can be arranged with a neighbouring farm.
7. Farmer's Guest House (South Iceland)
Farmer's Guest House is located in the agricultural heart of Iceland in Hella, southwest of Selfoss. Situated close to the Golden Circle route, it's a great place to stay for a few days of sightseeing. Visitors can stay in one of three cosy little farm cottages equipped with self-catering kitchens.
Predominately a working sheep farm which also houses horses, it is one of several farms in Iceland that offers close encounters with the farm animals. Guests can book guided horse-riding tours into the surrounding countryside and enjoy the slower pace of life that the setting exudes.
8. Steindórsstadir Guesthouse (South Iceland)
Despite being just 100km from the capital city of Reykjavík, Steindórsstadir Guesthouse feels wonderfully remote. It is located north of the capital near the beautiful Hraunfossar and Barnafoss waterfalls and makes it a convenient accommodation option if you are on a road trip towards the Snæfellsnes Peninsula.
It's a bed and breakfast farm stay with a small range of single and double rooms. There is a hearty breakfast served each morning in a friendly, laidback atmosphere. Guests have use of the kitchen as well as a communal lounge and outdoor hot tub.
Steindórsstadir is a small working farm with both sheep and cattle. They also keep Icelandic horses and offer guided horse-riding tours into the countryside nearby.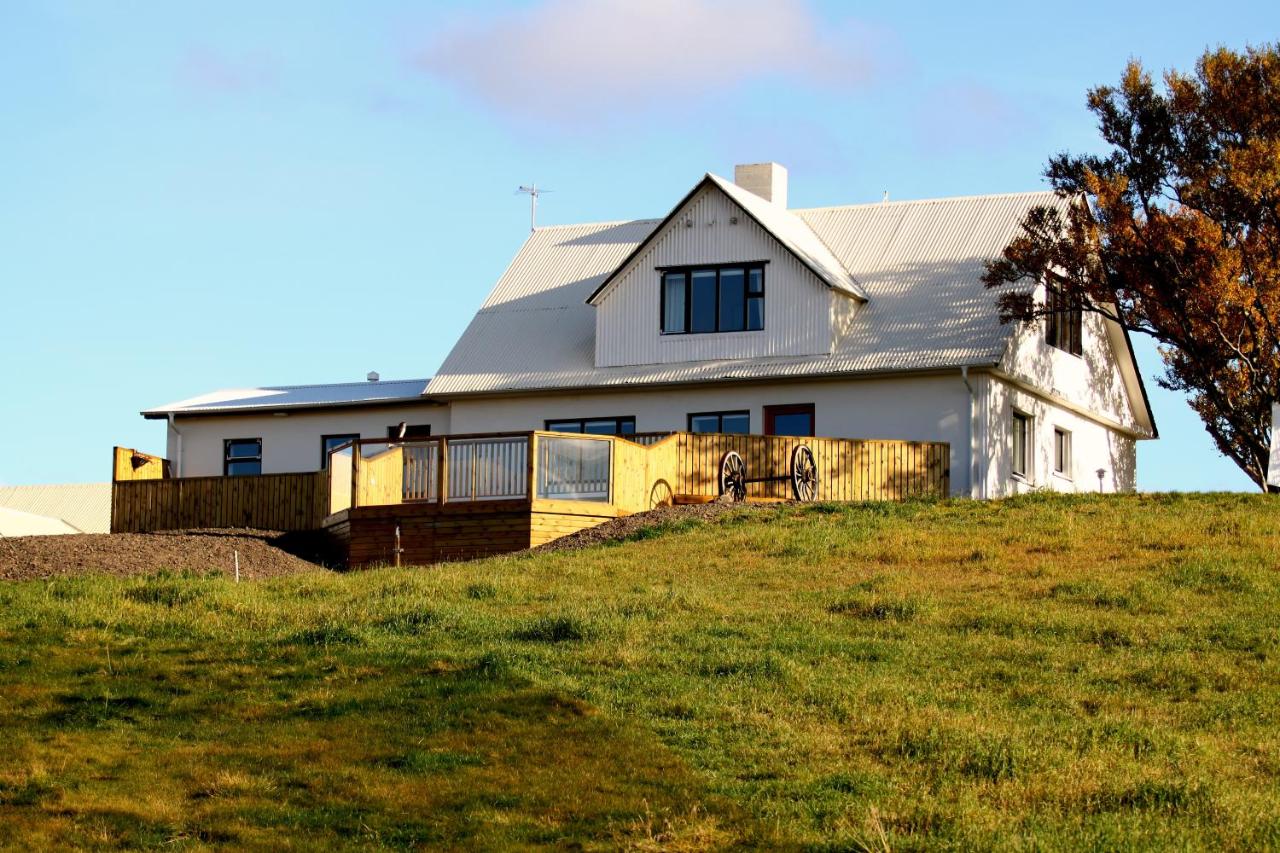 9. Snorrastaðir Farm Campsite (South Iceland)
Snorrastaðir Farm is a great place to stay if you are hiring a car in Reykjavik for a road trip. Located north of Reykjavík, it makes for an ideal stop on the route to the Snæfellsnes Peninsula, the Westfjords or the north. This is an ideal first stay if you take the clockwise route around the island to visit some of the farm houses Iceland has to offer in the north.
It is a basic setup but charming, nonetheless. Cars, campervans and motorhomes can park up next to a small stream with a picturesque backdrop that you'll be eager to photograph.
There is a shared kitchen and dining area with good facilities as well as bathrooms. Here, guests get to see a real functioning farm in action. There is also a lovely walking trail leading from the farm to the nearby Eldborg crater.
The best time of year for a farm stay in Iceland
To see the farms in full swing, you should aim to visit them during the summer months. Summer weather in Iceland is more settled, the temperatures are comfortable, and you'll see the busy working life of the farm. This is also the season in which you'll be able to properly enjoy activities such as horseback riding, hiking, and other outdoor adventures.
If you rather want to visit in the spring, that is also a good choice. Spring is all about new life, and on the farm, that is no different. The scene on a farm in springtime is lush and serene, with lambs frolicking in the fields and the vegetation in full growth. It is an optimistic time of year and a wonderful one for a farm stay visit.
The autumn months also have their own charm, even though the weather is a bit more whimsical. The wonderful fall colours paint the landscape, and you should still be able to enjoy plenty of outdoor activities. This is best done in the south, though, since the fall is short in the north and the winter comes early there.
When winter sets in, outdoor activities become more limited. But this is the season for wrapping up warm and looking out for the Northern Lights, which is always best done in an Icelandic farm cottage.
Your handy farm stays packing list
Sturdy boots for hiking around the fields and trails

Comfortable trousers and shoes for horse riding

A decent waterproof and windproof jacket

Layers for staying warm and cool as required

Hats, gloves, scarves and plenty of socks

A travel towel and bathing suit for enjoying Iceland's hot springs

A sun hat and sunscreen (depending on the season)

A daypack for hiking and excursion days

Water bottles to refill as you go

Snacks to keep you going on busy days out

A torch for finding your way at night (depending on the season)

A camera and charger for documenting your trip

A smartphone for maps (it's good to download offline maps) and other helpful apps
So, there you have it- everything to know about Icelandic farm stay holidays. Now, all that's left to do is lock in your rental car in Iceland and start planning your next adventure!